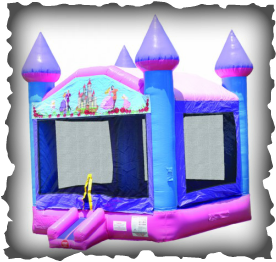 Princess Castle Bounce House 14' x 14'
Rental price includes delivery, set up and tear down.
$250 plus tax for 4 hours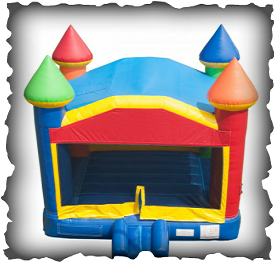 ​Rainbow Bounce House 14' x 14'
Rental price includes delivery, set up and tear down.
$250 plus tax for 4 hours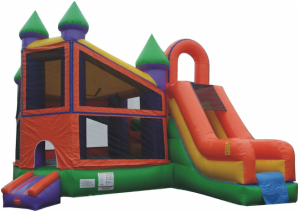 Deluxe Castle Bounce House Slide Combo
Combines the fun of a unique, diamond-shaped bouncy castles with a popular inflatable slide. Kids can jump and play inside the castle-shaped bounce house before going down the attached inflatable slide. Children love few things as much as they love bouncy castles and this the perfect choice for warm weather entertainment. Children will spend all day acting out any number of playful scenarios, from slaying the dragon to saving the princess. They can even make a daring escape down a slide.
19' x 15' x 16'
$325 plus tax for 4 hours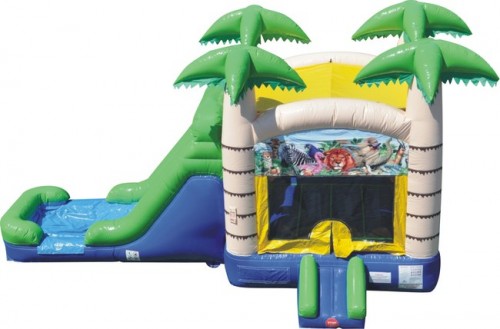 Tropical Theme Combo Unit
Make a splash with this awesome combination bounce house/slide unit. Great for Tropics or Jurassic theme parties. A simple climb for the slide and an exterior exit for more running outside the bounce house - less pushing for the slide.
$325 plus tax for 4 hours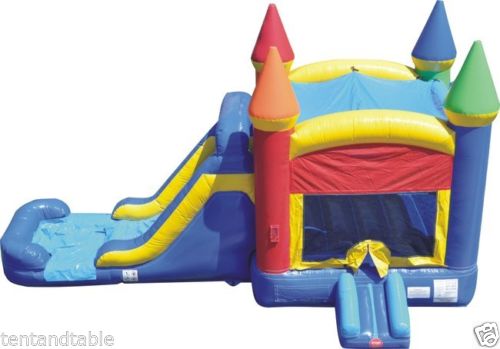 Rainbow Wet/Dry Combo Unit
Kids and adults alike will have wet and wild fun on this Combo Unit. A basketball hoop on the inside provides fun and guests waiting to enter the bounce house can play some basketball with the hoop on the outside.
Hook the hose up to the slide and let riders enjoy a super splashing water slide that drops them into the splash pool at the bottom. Jumping, bouncing, climbing and sliding, splishing and splashing fun guaranteed. The Rainbow Single Lane Bounce House Wet or Dry Slide Combo is the perfect addition to any backyard celebration.
​28'(L) x 15'(W) x 13'(H)
​$325 plus tax for 4 hours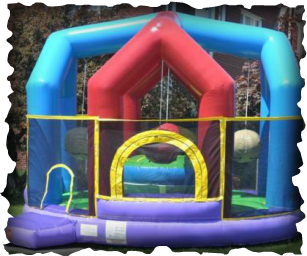 Challenge your friends with this fun, inflatable wrecking ball. One player will balance themselves on an inflatable target in the center of the moonwalk. Meanwhile, others aim a padded ball that hangs from an inflatable structure towards them. The Wrecking Ball is an interactive bouncy house with an attitude. Not only is this inflatable fun guests who're inside it, it's fun for party-goers who are operating the wrecking balls from outside the unit! This inflatable provides a chance for everyone to get involved. Up to 4 players can participate throwing the ball in hopes that they will send their target flying towards a soft, padded landing! Joust poles, helmets included. The wrecking ball challenge is great for birthday parties, fundraisers, family reunions, and hours of fun. Are you are up for the challenge? This ultimate high-energy game is the perfect fit!
20' x 20' x 24'
​$350 plus tax for 4 hours
"Hang" out on this inflatable! Riders run up the ramp and jump on the raised section, and then stick to the wall! A blast for all!
Rental includes setup, velcro suits and tear down.
​$300 plus tax for 4 Hours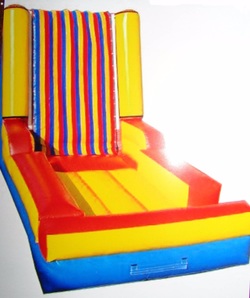 The Radical Run Extreme Obstacle Course is exactly what its name states: EXTREME. Configurable in two ways, this obstacle can be long and narrow or squared off with the entrance and exit on the same side. With some of the most satisfying obstacles in the industry, this tough course is not for the faint of heart. Packed into this intense course are crawling, squeezing, push through, and jumping obstacles paired with a rock climb and slide. The double lanes allows for easy movement of participants as well as competitive runs. This unit will elevate any event to EXTREME.
​$550 plus tax for 4 hours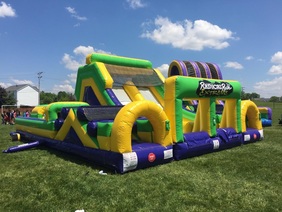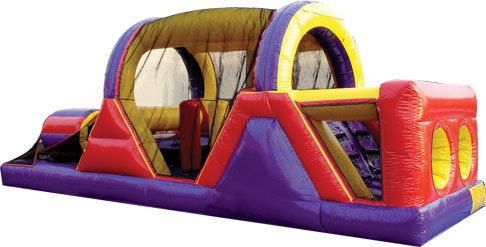 30' Backyard Obstacle Course
This is the perfect indoor unit due to its low height. Race opponents through 30' of pure fun.
Rental includes 30' obstacle, blower, setup and tear down.
​$350 plus tax for 4 hours
A 30' race of fun!
Rental includes 30' obstacle, blower, setup and teardown.
​$350 plus tax for 4 hours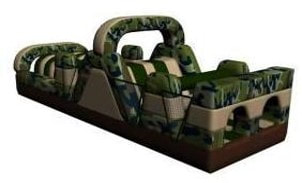 Indoor or outdoor. Enjoy soccer without the running. Great for parties, school and church events or team building.
​$500 plus tax for 4 hours